To say that managing a workforce of 4,000-plus employees is challenging would be an understatement. When more than 90% of them work in two-person crews doing some of the most dangerous work on the planet, and that work is distributed across a vast territory that covers over half the U.S., the challenge for leaders becomes exponentially more difficult.
How do you disseminate information to all of those employees and make sure everyone understands it? How do you create a safe work environment and facilitate continuous learning? Who do employees turn to in real time to get the tools and equipment they need to perform their work? And how does a company build its culture and values with such a dispersed workforce?
The answer to all these questions at Lewis is the same - strong front-line leadership in the form of empowered General Forepersons (GFs).
Lewis' front-line leaders
At Lewis, GFs are like Swiss Army knives. They're first responders to their crews and customers. They're boots on the ground helping solve problems. They set the example for craftworkers to follow. They process critical transactions to make sure work status is reported, customers get invoiced, and employees get paid. They're the face of the company for utility partners and homeowners. GFs are also responsible for figuring out where to send crews every day, ordering and keeping track of tools and equipment, training new and current craftworkers, communicating information from the corporate office . . . and the list goes on.
It's important for a company's front-line leaders to not only understand the meaning of leadership, but to also know how to execute it. Lewis GFs are among the best at putting principles into action.
The qualities of a great front-line leader
Front-line leadership is not for the faint of heart. As rewarding as a leadership position can be, it also comes with its fair share of challenges.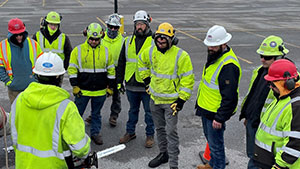 Making sure Lewis fulfills contractual agreements with utility partners, preventing accidents, and keeping the fear of failure at bay is enough to keep anyone up at night.
"When I first took over, I had a lot of sleepless nights just because I cared. You care that much. And you don't want to fail", says Christopher Williams, a GF for over 3 years in Lewis' New York division. Williams says he never really saw himself as a GF, but with the support of his Division Manager, he transitioned from Team Leader to GF.
As the saying goes, "Courage isn't the absence of fear, but the ability to move forward despite it." Lewis GFs demonstrate the ability to push through whatever fears they may have and execute their duties to the best of their abilities.
For Brandon Sullivan, a GF of 5 years in the company's Ohio division, front-line leaders must know how to listen and respond to their crews—not just when they're asking for new tools or safety equipment, but also when they have new or different ideas on how to approach tasks.
Courage isn't the absence of fear, but the ability to move forward despite it.
"The top GFs know how to listen to everybody and give them an actual voice, even if it's their day one," he says. "You never know, they might catch something that we've been doing one way for a long time, and they may have a little improvement opportunity just by mentioning something that we didn't think of."
Along with adaptability to handle the many responsibilities of a GF, Bladmir Cardenas says knowing how to talk to people, from crew members to utility contacts and homeowners, is a vital quality. Cardenas was an administrative assistant before becoming a GF in Lewis' Florida division.
"In a lot of our meetings we say that we're in the people business. Well, that requires having people skills," he says.
Williams says taking the time to figure out how best to communicate with his craftworkers takes a good dose of empathy. "If you don't have empathy, I just feel like you're not going to be able to relate to everyone on your team," he says. "Part of the Lewis mission statement talks about continuous learning, and if you don't have empathy, you probably aren't going to hear the things that will help us learn and get better."
Marcial Maldonado has been a GF in Lewis' Tennessee division for four years. Back in October of 2022, Maldonado joined Williams, Sullivan, and Cardenas on a GF panel sharing their experiences and challenges at Lewis' Annual Leadership Conference. Maldonado agreed with his fellow front-line leaders, saying that it's important to learn and pay attention to what their craftworkers go through every day to gain understanding.
Making a difference to the people you lead
Strong leadership on the front lines makes a big difference to those who work side-by-side with GFs—in this case, Crew Leaders, Climbers, Trimmers, Groundspersons, and other craftworkers.
Just ask Jovahny Sanchez, a Crew Leader who has worked with Maldonado for about 8 months. He experienced a variety of leadership styles prior to coming to Lewis, and says he knows a good one when he sees one.
Sanchez recalled a time when he was tasked to work on a tree but soon discovered the tree was rotten. He asked Maldonado what to do, and after driving out to the site to inspect the tree himself, Maldonado advised Sanchez not to climb it. It may seem like a simple decision, but with schedules and contracts with utility partners on the line, it's much more. "I was uncertain about what to do in this situation, so I called on Marcial for his guidance," Sanchez says. It sent a strong message to Sanchez that Maldonado prioritized his safety and came up with a different approach to the work.
We don't realize there are people who are capable of doing the work that we can delegate to. I've learned that by letting go, I allow people around me to grow.
Jason Farley, a Crew Leader who's worked with Williams for 4 years, has also had his fair share of experiences with GFs at other companies over the years. At Lewis, Farley says he knows Williams has his back. If he needs equipment or supplies, he can depend on Williams to not just listen to his requests but actually follow through. "Lewis treats their guys a lot different," he says. "You're not just a number here. And Chris enforces that."
That support is invaluable in a field like tree work where access to the proper tools and equipment is necessary to complete jobs safely.
Yenifer Sanchez, a fellow GF in Sullivan's division, says that a commitment to employees is a defining feature of front-line leadership, something that Sullivan models often. "I know that he's kept most of his guys through all the years he's been with Lewis," she says. "He's just committed to his people."
Daniel Berrios, an Area Manager who's been working with Cardenas since he was an Office Administrator, knows how important it is to place the right people in the right roles. When promoting, it's not enough for a candidate to give all the right answers to questions in an interview. Berrios watches how a candidate behaves in the field, how they handle pressure, and how they make decisions when it matters most.
During storm work when Lewis crews are dispatched to help restore power after natural disasters like hurricanes and blizzards, Berrios says Cardenas shines as a natural leader. He supports his crews, often becoming one of them. Instead of staying with management, Cardenas eats and sleeps with his crews.
"He's there with his guys supporting them," Berrios says. "He does it naturally. That's something we've noticed, and it's nice to see."
Advice for front-line leaders
Being a front-line leader no doubt comes with its fair share of pressure, but in the face of adversity, true front-line leaders pick themselves up, dust themselves off, and tackle the challenges of the next day with renewed vigor and determination. For those just joining the GF family, one thing they must remember is that they're not alone.
Williams urges new GFs to swallow their pride and ask for help when they need it. He says the advice he receives from his fellow GFs is priceless. "If I didn't ask for help, I probably wouldn't have lasted long as a GF."
With this job, you never stop learning
Sullivan agrees, saying that when he first took the GF role, he was reluctant to ask for help because he feared someone would think he wasn't qualified to do the job. But to truly succeed, he had to get over those fears.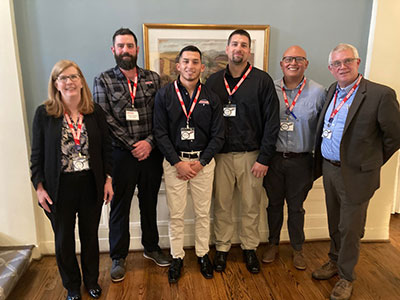 Another tip for new front-line leaders is to remember to use the team they have around them. Cardenas says, "Sometimes we want things to come out so perfect that we end up taking on too much work. We don't realize there are people who are capable of doing the work that we can delegate to," he says. "I've learned that by letting go, I allow people around me to grow."
As a front-line leader, every day is an opportunity to learn. According to Maldonado, successful front-line leaders are those who keep learning. "With this job, you never stop learning," he says. "To be a great leader or a great GF, it's important to have that mindset of always improving."