According to an in-depth time study by Harvard Business School professors Michael Porter and Nitin Nohria, CEOs spend, on average, just 6% of their time with front-line teams, only 3% with customers, and 72% in meetings. As a result, chief executives are at risk of slipping out of touch with the real-world situations their employees face.
The new CEO of Lewis Tree Service, Leslie Kass, is a member of the scant minority in the Harvard study. It's not unusual for Kass to throw on a pair of jeans, a reflective vest, boots and a hard hat instead of a business suit to start her workday. Kass says that at Lewis, one of the largest providers of utility vegetation management services in the U.S., "I learn more in one day in the field than I do in a month in the office."
"My leadership style is very front-line focused," explained Kass. "Being in the trenches is about meeting our front-line employees in their office, which is out in a parking lot for morning roundups and safety talks and getting prepared for the day out in the field. It's watching them do their work and appreciating the skill, coordination, and effort it takes to do the job well."

Not New to This
This is not the first time Kass has donned PPE (Personal Protective Equipment) to work. She brings 30 years of utility industry experience to the job. Most recently, she was an Executive Vice President at TC Energy, which develops and operates energy infrastructure in the United States, Canada, and Mexico.
"When I was at the pipeline, it was the field technicians out there actually making things run and keeping everyone safe," Kass explained. "They were the real boots on the ground."
Prior to TC Energy, Kass was the first female CEO in the 150-year history of Babcock & Wilcox. She also held leadership positions at Westinghouse Electric Company, the Nuclear Energy Institute, Entergy, and Duke Energy, managing multi-billion-dollar capital portfolios and corporate-wide governance for engineering, research and development, safety, nuclear regulatory affairs, risk assessment, quality, compliance, security, and emergency response. "Everywhere I've worked there's been some way we could enable the people on the front line to do their jobs better. We could make things simpler," she says. "It's about getting out there and understanding by walking a mile in the shoes—or boots, in this case—of the folks who do that work, and really appreciating what they're facing. They're the engine that makes the whole thing run."

Trial by Hurricane
Frontline workers in the vegetation management and utility line clearance field have one of the most dangerous jobs in the world due to highly variable working conditions, which can lead to chaotic and stressful situations. "It's one thing to review a process, and it looks awesome when you're sitting in an office with two monitors and a hot cup of coffee. It's another to experience it in the middle of a storm." Kass knows firsthand.
We were honored to be the last contractor to leave the area of greatest impact in Florida.
Just five months after Kass came onboard, Lewis crews were among the first who responded to the massive devastation caused by Hurricane Ian. This large, extremely destructive Category 4 hurricane caused widespread damage across the southeastern United States, including to one of the company's largest customers. The Lewis team mobilized from 15 states to remove thousands of fallen trees from power lines, roads, and property, allowing utility crews to move in and do their work.
"It was my first storm, and it was a big one, a doozy," Kass recalled. "We had about a quarter of our 4,000-plus employees responding on the ground at peak. Our folks told stories about rolling into a neighborhood to clear the way for utility linemen and being greeted by cheers! It was a tremendous response under the most difficult of circumstances."
Kass was especially impressed by just how far the teams went to get the job done, while demonstrating their own brand of frontline leadership. One team provided a generator to a family with a new baby. Another team supported a Lewis supervisor by helping him locate an employee he'd lost touch with when cell towers went down.
"They just had to know he was okay," she explained. "Those are perfect teammates."

Blueprint for Success
The experience with Hurricane Ian was further confirmation of one of Kass' most deeply held beliefs: "If we place a high priority on front-line folks, we can't help but succeed."
Leadership experts agree. Writing in the November 2022 issue of the Harvard Business Review, Harvard professor and former Medtronic CEO Bill George touted the benefits of paying more attention to front-line workers. "In Medtronic's R&D labs I got many valuable ideas for new products and new medical therapies. In visits to its factories, I realized that it was the assembly workers — not the quality department — who made the difference in the quality of our products. That time helped me be a better CEO, both because I learned what I needed to do to support our employees and because my decision-making was infused with firsthand understanding of our customers and operations."
George points to several of today's elite leaders who are also shifting their focus from the front office to the front line, like General Motors CEO Mary Barra, Asymmetric Holdings Founder Jonathan Lee Kelly, and Best Buy CEO Hubert Joly.

Challenging the Status Quo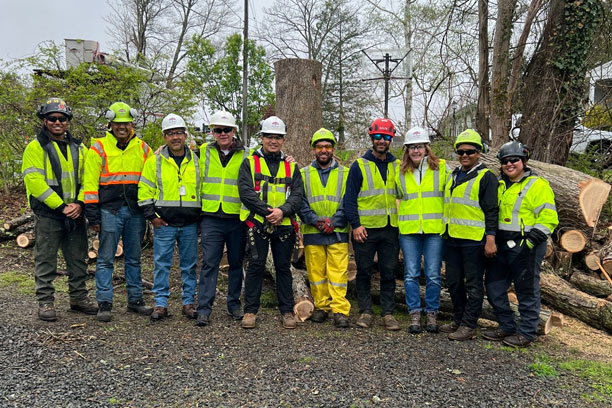 Like Professor George, Leslie Kass believes there are significant consequences for not bringing executive leadership to the front-line.
"We make dumb decisions, for one thing," she says. "I had a very early conversation with a couple of front-line leaders down in the Baltimore area about working on administrative items to make their lives easier, making information more accessible and more relevant. But timing is key. Front-line folks said, 'If you push something down in the fourth quarter of the calendar year while we're trying to finish up our work for customers, you're killing us.'"
I've seen talent blossom when roadblocks were cleared.
The second consequence of not staying in touch with the front line is poor employee morale. "We saw this in some companies during COVID, where the front-line workers were out in the field and all the corporate people and leaders were sitting at home," Kass recalled. "Front line workers were like, 'hey, I'm out here risking my health and wellbeing while you sit back and earn a paycheck.' There's some resentment that I think builds and grows when this happens and if you're not in touch with the front-line workers, you can be oblivious to a key issue affecting morale, productivity, retention, and customer satisfaction."
Sometimes, clearing obstacles may mean challenging the status quo. "That means constantly stopping and challenging why we are doing things the way we're doing them. The world is changing quickly. Is there a new tool, a new technology, a new way to do things differently? How can we make a process more efficient, more cost effective? Often the front line is the best place to get new ideas to help improve safety, processes, and tools they can use."
Kass believes that leaders don't just hold the power. "It's up to us to distribute it. When you give people power, they do their best work," she added. "Clearing obstacles is critical for ensuring a safe workplace environment where people can contribute optimally. I've seen talent blossom when roadblocks were cleared."
Kass also believes that "good" isn't good enough. "I have high standards for what can be achieved and how we perform as a business. This is a high-consequence industry where the difference between good and great can literally save lives and prevent costly power outages from occurring."

Job Done Right
In the end, for Kass and every Lewis employee, it's all about getting the "Job Done Right" – a tagline that articulates one of the company's most important promises to customers. On one level, she says, "It's over 4,000 hard-working people in 27 states doing a professional job and providing a hassle-free experience to our customers. We're a national company with the scope and scale to bring resources to bear when you need them, yet we're flexible and agile enough to move to where the action is."
She also knows that "Job Done Right" encompasses Lewis' entire culture: safety, customer experience, employee satisfaction, human performance, and the highest ethical standards. It's a promise to listen, provide solutions, meet commitments, and above all, "do the right thing."
The Leslie Kass promise? "To be fair and relatable," she says. "My colleagues – especially our craftworkers and front-line leaders – have a partner and problem solver they can count on."
"I don't expect anyone to be perfect, but I do expect that we all keep learning and trying to do better in everything we do."
The Leslie Kass promise? "To be fair and relatable," she says. "My colleagues – especially our craftworkers and front-line leaders – have a partner and problem solver they can count on."